Low Income Home Energy Assistance Program (LIHEAP)
The Winter 2023 LiHEAP program opens to the public on January 9, 2023
HOW LIHEAP WORKS:
The Low-income Home Energy Assistance Program helps low-income households with home energy costs by administering Regular Assistance and Crisis Intervention programs. Each program provides financial assistance to income qualified households with a one-time per program payment to the household's energy supplier or, under certain circumstances, to the applicant. The Crisis Intervention program aids eligible households facing energy-related emergencies.
LiHEAP provides payments for utilities used in heating for electricity, natural gas, wood, or propane during the Winter program, and in cooling for electricity during the Summer program. Payments are made directly to the utility companies, allowing low-income families to heat or cool their homes.
PROGRAM REQUIREMENTS:
To qualify for LiHEAP benefits through CDCAA you must be a resident of Arkansas, Cleveland, Grant, Jefferson, or Lincoln County and you must meet specific income eligibility requirements. You must have a monthly household income (before taxes) that is less than or equal to the following amounts: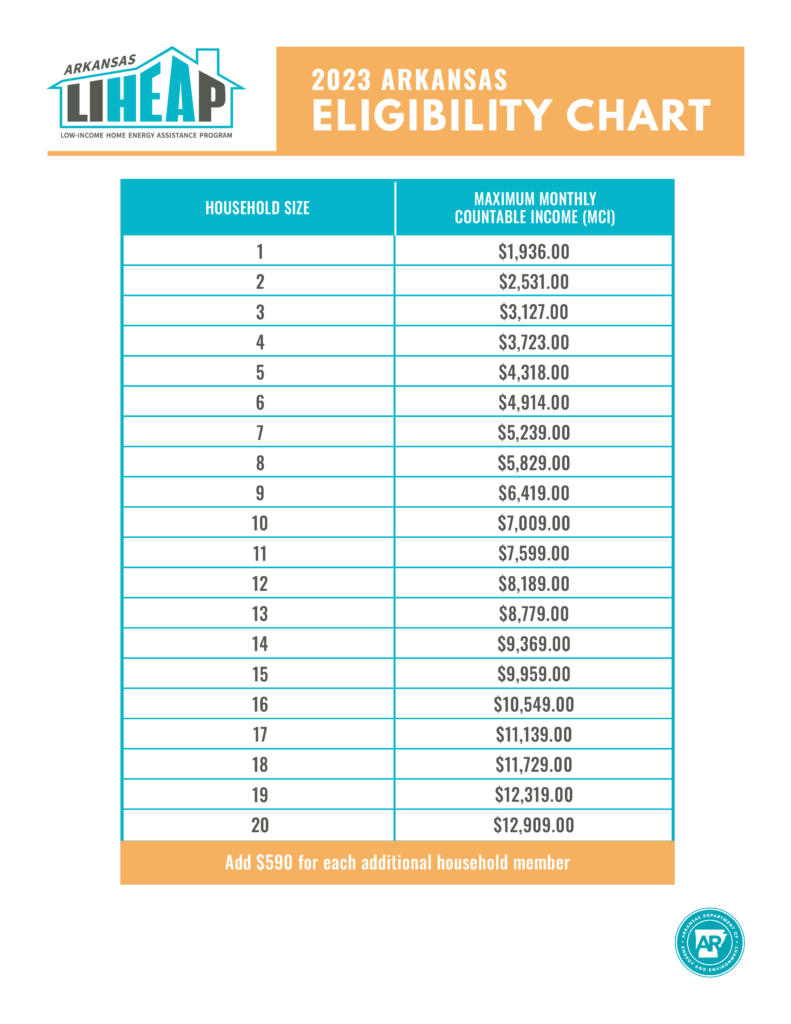 WHERE AND WHEN TO APPLY
You must apply for assistance at the CDCAA office in the county in which you currently reside. Applications will be accepted at each office location Monday through Thursday, from 8:00am to 11:30am. If your work schedule interferes with your application, you may call your local county office and request an appointment be set outside of the regular application hours OR you may submit your completed application and all required documentation by email to liheap@cdcaa.org OR you may send someone with all needed documents and a signed letter giving your permission for that person to apply on your behalf.
WHAT TO BRING – REQUIRED DOCUMENTATION
Proof of income for yourself and for anyone 18 or older in the household for the month prior to date of application
Proof of Social Security, SSI, Retirement, VA Benefits, if received
Proof of unemployment benefits if no longer working for 6 months to a year before date of application
Most recent utility bill(s)
For Crisis Assistance, you must bring a shut-off notice
Picture ID and social security cards for yourself and any 18 or older in the household
If additional information is needed, you will have 10 days to provide it. If the requested information is not provided within 10 days your application will be denied
IF YOU HAVE NO INCOME
We will have to see proof of how you have been paying your bills.  If a family member or friend has helped you, we need a statement completed from each person who helped you in the previous month by contributing to your household income. These forms are available at our offices.
The hours that each office will be accepting LiHEAP applications in person is as follows:
Arkansas: Monday – Thursday, 9am-2pm Cleveland: Monday – Thursday, 9am-2pm Grant: Tuesday, Thursday, and Friday, 9am-2pm Jefferson: Monday-Thursday, 9am-2pm Lincoln: Tuesday, Thursday, and Friday, 9am-2pm Each office closes for lunch from 11:30am-12noon daily.